by Patti | Dec 3, 2013 | Book Review, Hot, Hot Pick, Paranormal, Paranormal Romance, Patti, romance, vampire, YA, Young Adult |
Published by
Penguin
,
Razorbill
on November 19, 2013
Genres:
Paranormal
,
Young Adult
Size: 449
Format: Hardcover
Source:
Purchased
Amazon
::
More Info
::
PJV Rating:
In The Indigo Spell, Sydney was torn between the Alchemist way of life and what her heart and gut were telling her to do. And in one breathtaking moment that Richelle Mead fans will never forget, she made a decision that shocked even her. . . .

But the struggle isn't over for Sydney. As she navigates the aftermath of her life-changing decision, she still finds herself pulled in too many directions at once. Her sister Zoe has arrived, and while Sydney longs to grow closer to her, there's still so much she must keep secret. Working with Marcus has changed the way she views the Alchemists, and Sydney must tread a careful path as she harnesses her profound magical ability to undermine the way of life she was raised to defend. Consumed by passion and vengeance, Sydney struggles to keep her secret life under wraps as the threat of exposure—and re-education—looms larger than ever.

Pulses will race throughout this thrilling fourth installment in the New York Times bestselling Bloodlines series, where no secret is safe.
(I know it's not the weekend but since I was in Houston over the holiday weekend
you're getting Romance on a Tuesday!)
PJV Quickie: The Fiery Heart is a Must-Not-Miss for fans of this series!  This  is easily my favorite book in the series to date; I might even be enjoying Adrian and Sydney more than Rose and Dimitri!!
Review: 
Sydney Sage is an Alchemist working with the Moroi (vampires), trying to keep the sister of the current queen safe and hidden from other Moroi who want to kill her.  She's hiding in Palm Springs, and Sydney's younger sister has come to "apprentice" – she's young and new and very, very by-the-book, which means Sydney is making a lot of excuses to find time to sneak away and meet with Adrian (vampire/alchemist relationships are forbidden), assist the Moroi as part of her alchemist duties, work on her spells (also taboo for the alchemists), and continue her promise to try to help rogue alchemist Marcus Finch.
Adrian is battling his own demons – does he do what he needs to do to keep himself sane and his demons at rest, or sacrifice his sanity for the knowledge he can give the Moroi?  He is trying to help Sydney as much as he can, but it doesn't feel like enough. How long can they keep their relationship a secret?  And how long can he continue to work with the Moroi before his "setbacks" become too much for Sydney to handle?
~~~~~~~~~~
I have to be honest – while I loved the book, I hate the cover. Adrian looks like he's aged 2o years and Sydney's over-processed hair made me cringe.  Cover aside though – OMG I couldn't put The Fiery Heart down!
Sydney and Adrian have both grown and evolved into really special characters.  Sydney is struggling to do what she thinks is right even though it goes against everything she's been indoctrinated by the Alchemists to believe – to the extent that she's actively working against them.  She's got a lot on her plate in The Fiery Heart, and when family drama is thrown into the mix she still manages to keep her cool and keep her eye on the prize.
The Fiery Heart is told in both Sydney and Adrian's point of view and I loved it.  Adrian is such an awesome hero – he's struggling to be a better person and the things he does for Sydney are pretty significant.  I have loved him throughout this series and he just keeps getting better.  Based on the way The Fiery Heart ended, and the blurb for the next book, Silver Shadows, I think Adrian is going to have a tough road ahead of him.  Judging by his actions in The Fiery Heart though, I know he can overcome whatever is thrown in his path.
The multiple storylines for The Fiery Heart make for a really, really good read, but Sydney and Adrian's romance takes it up a notch to great.  And the ending – THE ENDING!!!! I hate cliffies and I NEED to know what happens next!!!  Oh, Ms. Mead, how you play with my emotions… The Fiery Heart had me completely involved and immersed in the story.
Recommendations: I would not recommend The Fiery Heart as a stand-alone.  I think you can start with the first book in the series, although I enthusiastically recommend starting with the Vampire Academy series and then the Bloodlines series – trust me, you won't be sorry.
Other books you might like, similar to 'The Fiery Heart':
by Dana | Nov 26, 2013 | Book Review, Dana, Hot, Paranormal Romance, vampire |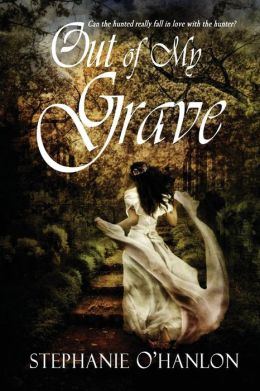 Published by
Eternal Press
on August 8, 2013
Genres:
Adult
,
Historical
,
Paranormal Romance
,
Romance
Format: eBook
Source:
Provided by Author
Amazon
::
More Info
::
PJV Rating:
Annalee Harding is an upper-middle classed young woman in 1792 London. She spends her days in her large home daydreaming endlessly, wishing a dark stranger would whisk her away. Her wish comes true after Vincent Moor, an American aristocrat, moves into the dark manor just outside of town. He catches her eye; his dark aura draws her in until she finds out that he is unlike other gentlemen—being over a hundred years old and thirsting for blood.
PJV Quickie: Stephanie O' Hanlon has beautifully written Out Of My Grave where prose are concerned. But the story itself had a lot of pacing issues and there wasn't much character development.
Out of My Grave is a historical paranormal romance that features a vampire/human love story. I am a big fan of vampire novels and I think Stephanie put a nice spin on the vampire genre with setting it in England in the 1800′s. She was also able to create her own distinct type of vampire which is a quality I always look for in vampire novels. I don't want to read about the same type of vampire, time and time again. These vampires prefer certain types of blood based on the lives the human led, which I found really interesting. As well as how draining a vampire completely, turns them into a sort of zombie making them compelled to want the flesh of the vampire that drained them.
Stephanie is an amazing writer and describes everything in great detail. Some of her sentences were just beautiful. She spends a lot of time depicting Annalee's, the main character, dresses and the parties she attends that it began to take away from the story. There was more telling than showing in Out Of My Grave. This to me was what caused my main downside to the novel, the pacing.
Out Of My Grave was extremely slow. For the first half of the book you aren't even fully introduced to the vampire aspect of the story. I was rather bored for the beginning of the book and then the book took a complete turn and went straight into fast paced vampire story, it gave me a mental whip lash. For the most part the vampire aspects took a backseat to the historical romance.
Character wise I just wasn't a fan of the female protagonist Annalee, she was very whiny and too emotional for my tastes. She had her moments of strength but they never really shined through long enough to like her. At times she was just too snobby and always the damsel in distress even after becoming a vampire. Though she had several monstrous moments. I really liked Vincent though. I found myself rooting for him. He was a gentleman who had his darker more possessive side which came off sort of sweetly.
Overall, I really liked Stephanie O'Hanlon's writing but the story fell short for me. If I had the chance to pick up another book by her I  would probably read a Historical Romance by her but not a paranormal one.
by Patti | Nov 24, 2013 | Book Review, Hot, Hot Pick, Paranormal, Paranormal Romance, Patti, Urban Fantasy, vampire, YA, Young Adult |
Published by
NAL
,
Penguin
on November 5, 2013
Genres:
Paranormal
,
Young Adult
Size: 369
Format: Hardcover
Source:
Library
Amazon
::
More Info
::
PJV Rating:
While Morganville, Texas, is often a troubled town, Claire Danvers and her friends are looking forward to coming home. But the Morganville they return to isn't the one they know; it's become a different place—a deadly one…

Something drastic has happened in Morganville while Claire and her friends were away. The town looks cleaner and happier than they've ever seen it before, but when their incoming group is arrested and separated—vampires from humans—they realize that the changes definitely aren't for the better.

It seems that an organization called the Daylight Foundation has offered the population of Morganville something they've never had: hope of a vampire-free future. And while it sounds like salvation—even for the vampires themselves—the truth is far more sinister and deadly.

Now, Claire, Shane and Eve need to find a way to break their friends out of Daylighter custody, before the vampires of Morganville meet their untimely end.
PJV Quickie: Daylighters is the last book in the extremely popular Morganville Vampire series, and as a long-time fan I have to say I'm going to miss Claire and the gang.  Daylighters delivers on the action, suspense, and playful dialogue that we've come to expect from this series; I'm sad to say goodbye.
Review: 
In this 15th and final book in the Morganville series, Claire, Shane, Eve and Michael have been dragged back to Morganville and it's not a happy reunion.  Things have changed while they were gone, some things have been for the better, but most things have definitely not.  The Daylighters have control of Morganville and all the vampires have been captured and hearded into a holding area away from the town.  Fallon, the zealot founder of the Daylighters, has invalidated Michael and Eve's marriage and expect Claire, Eve, and Shane to assimilate nicely into the 'new, improved Morganville'.
Of course, they can't just turn their back on their vampire friends and loved ones – especially Michael, Myrnin, Amelie, and Oliver – but the Daylighters have no intention of letting the vampires go.  When they find out what Fallon has planned for the vamps, they know they have to save them and have no time to lose…
~~~~~~~~~~
I have mixed feelings about the conclusion to this amazing series:
I loved the action and twists that kept the story moving.  We got to see all of our old friends (some only for a scene or two), even taking a side-trip to Blacke.  Myrnin is still my favorite character, although I really liked Jesse (Lady Grey) too; she shared a powerful scene with Claire that was an eerie premonition of things to come.  And Shane, poor Shane, he's always getting into trouble he didn't sign up for.  I'm not going into more except to say that the dog bite from the last book has unexpected developments that keep him away from Claire.  Their love really does conquer all.  Eve and Michael are still fighting for their right to love each other, and Claire is still throwing herself in harm's way to save the vampires.  As I was reading Daylighters, I would sit in my reading chair and lose track of time, which is an awesome way to spend an evening after a rough day.
BUT, I took off one star because some of the scenarios were resolved in a manner that seemed a little too convenient, and I'm honestly not sure how I feel about Michael's fate.  I thought the ending was a bit sappy, but am ultimately happy with how things ended. There is a scene between Myrnin and Claire that was just perfect (my love for Myrnin apparently knows no bounds).
Recommendations:
I would not recommend Daylighters if you have not read at least a few of the previous books in the series – Claire's actions and attempts to save the vampires won't make much sense.  If you have read the previous books in the series, Daylighters is a satisfying ending to a fabulous series:  it's a solid ending that leaves just enough of their future to your imagination.  I predict a barrage of "after Daylighters" fanfic in the future.
Other books you might like, similar to 'Daylighters':
by Patti | Apr 13, 2013 | Book Review, Paranormal, romance, vampire |
Published by
Casablanca
Genres:
Paranormal Romance
PJV Rating:
Romancing the Weekends: Bite Me, Your Grace by Brooklyn Ann
PJV Quickie: Bite Me, Your Grace was a sweet vampire romance with elements of actual history written in.  There were some humorous elements that I enjoyed, but I wish there had been more world-building.  All in all, a cute start to this new historical vampire series.
[frame align="left"]
[/frame]
Title: Bite Me, Your Grace
Author: Brooklyn Ann
Type: Paranormal Romance
Published: April 2, 2013 by Sourcebooks Casablanca
Source: Publisher
Purchase
Goodreads
Author Web
Review
Angelica Winthrop's dream is to be a writer like Mary Shelley; she wants to write horror stories and have them published.   Her mother wants her to marry well and have all the privileges afforded to members of the haut ton.  Angelica does NOT want to be married – she's sure she'll be married off to a man who's going to spend her dowry on mistresses while she is miserable at home.  What she'd really like, instead of going to parties, is to get a peek into the suitably creepy Burnrath House, home of the somewhat mysterious Duke of Burnrath, to get ideas for her stories.
Ian Ashton, Duke of Burnrath, has a rather peculiar reputation – he's never seen during the daytime due to a 'skin condition'.  Ever since Dr. John Polidori published "The Vampyre", all of London is obsessed with vampires and they suspect Ian.  Of course, they cannot offend a Duke, but they can try to trip him up a bit
.  What they don't know is that Ian is actually the Lord Vampire of London – a secret that must be kept at all costs.
____________________
Is it possible to describe a story as "cute" and "dark" at the same time?  Because that's my initial response to Bite Me, Your Grace.  This was an interesting mix of fact and fiction. Polidori was a real person and according to Wikipedia, he actually did write one of the first vampire books in English and was Lord Byron's physician.  He also apparently did meet and socialize with Mary Shelley.   I like when a book causes me to look things up, and the history of the gothic vampire novel is quite interesting.
I really liked Angelica:  her attempts to ruin herself at parties was funny – she really, really didn't want to be married.  I also liked her determination to write and the steps she took to make her dream a reality.
I hate to say it, but Ian was just an okay hero for me:  Maybe it was because he had obligations as the Lord Vampire, but I was frustrated with the way he treated Angelica. Besides leaving her to run off to chase Polidori, his lack of action after her misunderstanding about his plans were disappointing.  I wanted him to fight for her, and when he did it was too little, too late for this reader.
Angelica and Ian's romance was unexpected (by them) and sweet.  The misunderstanding between them was frustrating and I found some of Angelica's actions contrary to her feelings expressed in the beginning of the story:  The writers? Yes.  The parties? No.
I do wish Ms. Ann had written more about the vampire world – things like how they get their powers, restrictions (it appears only sunlight?), the hierarchy of the vampire world, etc.  The information we got was fed to us in bits and pieces, so it was nice not to have an "info dump" but I did wonder more about the vampire society.
Ultimately, Angelica's humorous actions and the historical tidbits were enough to keep me interested in this story.  There were some secondary characters that I found interesting, and some I did not (*cough* Rosetta *cough*) and I liked the dark feel to the story.  I'm hoping the next book will feature Rafe, a vampire who is Ian's second.
Recommendations:
Fans of paranormal historicals, especially if you like your heroine to be a "bluestocking" .
Other books you might like, similar to 'Bite Me, Your Grace':
It Happened One Bite (Regency Vampires) by Lydia Dare (part of the Westfield Wolves series)
The Rest Falls Away (The Gardella series) by Colleen Gleason
by Patti | Jan 27, 2013 | book buzz, Feature, Paranormal, vampire, YA New Releases, Young Adult |
Series Promo:  The Hunt Series by Andrew Fukuda
Rachel did a "Dishing Junk" segment on cover snobbery last Wednesday. This series is a perfect example of judging a book by its cover:
 When I saw the cover for The Hunt, I thought "eh, probably not my thing – doesn't look like there's any romance there", but I hopped over to St. Martins' website to check it out anyway, and then I saw the cover quotes at the top of the page:  Andrea Cremer, Richelle Mead, and Becca Fitzpatrick?  I love Andrea Cremer and Richelle Mead's books!!! (I haven't read Becca Fitzpatrick yet but my 11yo loves her books).  Obviously, if two of my favorite authors love this book, I'm going to love it too, right?  Maybe, maybe not.  BUT, it got me to look a little closer at the rest of the blurb and I realized that yes, this does look like something I'd enjoy.
Decide for yourself:
Title: The Hunt (The Hunt #1)
Author: Andrew Fukuda
Type: Young Adult Paranormal
Published: May 8, 2012 by St. Martin's Griffin
Purchase
Goodreads
Author Web
From Goodreads:

Don't Sweat. Don't Laugh. Don't draw attention to yourself. And most of all, whatever you do, do not fall in love with one of them.

Gene is different from everyone else around him. He can't run with lightning speed, sunlight doesn't hurt him and he doesn't have an unquenchable lust for blood. Gene is a human, and he knows the rules. Keep the truth a secret. It's the only way to stay alive in a world of night—a world where humans are considered a delicacy and hunted for their blood.

When he's chosen for a once in a lifetime opportunity to hunt the last remaining humans, Gene's carefully constructed life begins to crumble around him. He's thrust into the path of a girl who makes him feel things he never thought possible—and into a ruthless pack of hunters whose suspicions about his true nature are growing. Now that Gene has finally found something worth fighting for, his need to survive is stronger than ever—but is it worth the cost of his humanity?
Title: Prey (The Hunt #2)
Author: Andrew Fukuda
Type: Young Adult Paranormal
Published: January 29, 2013 by St. Martin's Griffin
Purchase
Goodreads
Author Web
From Goodreads:

For Gene and the remaining humans—or hepers—death is just a heartbeat away. On the run and hunted by society, they must find a way to survive in The Vast… and avoid the hungry predators tracking them in the dark. But they're not the only things following Gene. He's haunted by the girl he left behind and his burgeoning feelings for Sissy, the human girl at his side.

When they discover a refuge of exiled humans living high in the mountains, Gene and his friends think they're finally safe. Led by a group of intensely secretive elders, the civilisation begins to raise more questions than answers. A strict code of behaviour is the rule, harsh punishments are meted out, young men are nowhere to be found—and Gene begins to wonder if the world they've entered is just as evil as the one they left behind. As life at the refuge grows more perilous, he and Sissy only grow closer. In an increasingly violent world, all they have is each other… if they can only stay alive.
There's enough of a hint of romance and definitely looks like a good paranormal world. What do you think???
by Lori | Oct 10, 2012 | Author Interview, Book Review, horror, Hot, vampire, Werewolves |
PJV Quickie: I LOVED this book. LOVED it. At 7% in I knew that I would devour the rest of the book!!! It took me something less than 4 hours to read. Wow.
Title: The Charmed
Author: Christine Wenrick
Genre: PNR UF/Adult
Published: Aug. 29th, 2012

Source: Author provided .Mobi
In The Charmed—Book One of The Charmed Trilogy—Olivia Ann Greyson sees only one future for herself—to compose and perform the music she has loved since she was a child. But that future changes in an instant when a commuter train taking her to the city crashes and is attacked by, unbelievably, a coven of vampires! As the rabid creatures feed their thirst on the surviving passengers, Olivia is spared from an unthinkable fate because of the intervention of another vampire—Caleb Wolfe, a figure from her past who, for reasons he doesn't understand himself, would do anything to protect her. After one familiar touch, Olivia recognizes the man behind the vampire. Soon love, and a powerful supernatural connection, begins to grow between them. But with that connection Olivia starts to notice starling changes happening within herself, and violent events make it clear that the vampire coven which wanted her the night of the train crash won't stop until they have her. Time is running out for Olivia and Caleb to discover why all this is happening. And the answers they find may painfully tear their new love apart.
Advertise on parajunkee.com
Be A Junkee
Recent Comments